#CleanIT – Leak shows plans for large-scale, undemocratic surveillance of all communications | EDRI
See on Scoop.it – Indignados e Irrazonables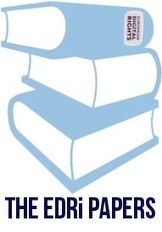 A leaked document from the CleanIT project shows just how far internal discussions in that initiative have drifted away from its publicly stated aims, as well as the most fundamental legal rules that underpin European democracy and the rule of law.
The European Commission-funded CleanIT project claims that it wants to fight terrorism through voluntary self-regulatory measures that defends the rule of law.
The initial meetings of the initiative, with their directionless and ill-informed discussions about doing "something" to solve unidentified online "terrorist" problems were mainly attended by filtering companies, who saw an interesting business opportunity. Their work has paid off, with numerous proposals for filtering by companies and governments, proposals for liability in case sufficiently intrusive filtering is not used, and calls for increased funding by governments of new filtering technologies.
The leaked document contradicts a letter sent from CleanIT Coordinator But Klaasen to Dutch NGO Bits of Freedom in April of this year, which explained that the project would first identify problems before making policy proposals. The promise to defend the rule of law has been abandoned. There appears never to have been a plan to identify a specific problem to be solved – instead the initiative has become little more than a protection racket (use filtering or be held liable for terrorist offences) for the online security industry.
See on www.edri.org