#huelgageneral "Balas de Goma en la las calles de Madrid" de @mollycrabapple | VICE
See on Scoop.it – Indignados e Irrazonables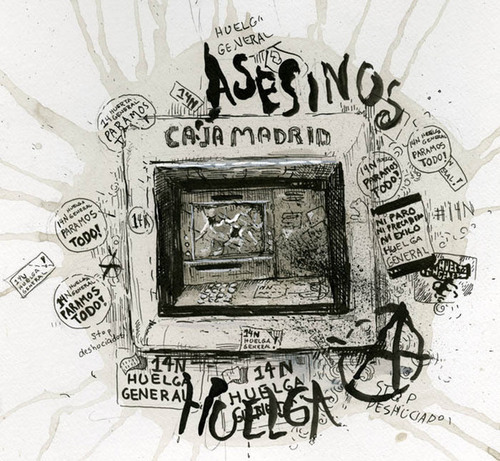 Molly Crabapple hung out with teenage anarchists and sketched the Spanish protest.
Any protest, when you're in it, feels like it's going to change the world.
I was balanced on a railing, sketching the 400,000 strong march in support of the Madrid general strike. I saw an infinity of faces. Above them was a leftist rainbow. Black and red flags of CGT (the anarchist trade union), red balloons of UGT (a Spanish mainstream union), yellow-red-purple flags of the Second Republic. People carried homemade banners protesting the debt/austerity cycle that the EU is trying to impose on Spain.
Four hundred thousand mouths were singing "Arriba! Arriba! Todos a luchar!" (Up! Up! Everyone Fight!). V masks marched next to students, toddlers, hard-faced manual laborers. The chanting, the signs, the bodies, all conspired to one thrilling, deceptive conclusion. They have to win.
Of course, protest doesn't change the world. By itself, protest is carnival. Masquerade, song, fire – liaisons made and kings mocked. Daily grey briefly overturned. Rebellious ecstasy that ultimately serves to keep the hierarchy in place. Those in power, if they're have a speck of self awareness, allow carnival as a safety valve. Carnival is not power itself.
I learned this at Occupy Wall Street. We felt like we were building a new world in a concrete square until the NYPD cracked skulls and threw our mini-city in dump trucks.
See on www.vice.com