Ask me anything with .@birgittaj #Icelandic MP, Leader of #Pirate Party #Iceland & #WikiLeaks Activist.
See on Scoop.it – Indignados e Irrazonables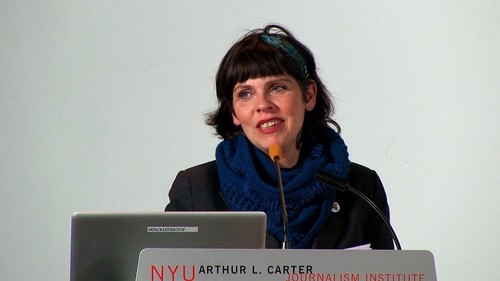 Filmed April 4, 2013. Icelandic MP Birgitta Jonsdottir of the Icelandic Pirate Party speaks at NYU Hemispheric Institute's Yes Lab at the NYU journalism Center. Arriving here in the US in support of Bradley Manning, Jonsdottir spoke of politics, media activism, recited two poems, and fielded questions from the audience. In the audience, Wikileaks spokesman Kirstinn Hrafnsson answered one question on the topic of Julian Assange.
Francisco George's insight:
0:00 intro
4:20 poem # 1 "Countries without Borders"
6:17 personal introduction, and anecdotes, hacking the System.
23:08 question: grassroots campaigning,
33:59 question: iceland activism, bankers, banksters
42:28 question: Icelandic Modern Media Initiative, internet safe haven, cloud computing, pirate party
49:52 Kirstinn Hrafnsson on the release of Julian Assange (later off-the-video he says he was just being optimistic).
50:09 question: media and outreach on Bradley Manning
54:37 question: siggi, sabu, fbi, iceland, and wikileaks
1:00:52 poem # 2 "Cry from the Heart" (to be read to somebody in prison). UPDATE April 5: she recited the poem to Jeremy Hammond currently being held at Metropolitan Correctional Center
See on www.youtube.com